Unique Personalised Baby Gifts
Unique Baby Gifts For The Ones You Love ♥️
Thoughtful newborn gift boxes to bring huge smiles and untamed happiness to expecting parents, new mums, and our littlest loves.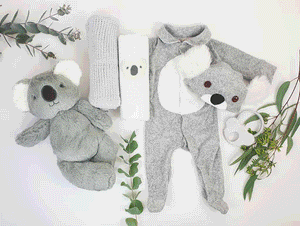 THOUGHTFUL GIFTING
UNIQUE BABY GIFT BOXES
Make your baby gifting experience truly special
Shop GIFT BOXES
Quality • Safety • Comfort • Design • Service
These words embody everything we do at Lil' Creatures.
Our costume fabrics are custom knitted to be the perfect blend of breathability, softness and quality. Our unique baby gift packs are beautifully curated - customised cards, gift-boxes or wrapping and free or express post all are available to meet your needs.
Unique infant baby gifts in Australia and delivered with love around the world.
LIL' CREATURES GIVING BACK
SAVE THE KOALAS
Koalas are considered vulnerable to extinction—just a step above endangered—suffering from the effects of habitat destruction, domestic dog attacks, bushfires and road accidents.
We sponsor Save The Koalas by donating $1 from every sale to the Australian Koala Foundation to support their work of helping save koalas in the wild.
LEARN MORE
Testimonials
Purchased the koala onesie and personalised wooden teething toy as a gift. Exceptional quality, beautifully presented and efficient shipping.
Makes a gorgeous and unique gift.
Highly recommended.

Charmain G, Newcastle NSW
Amazing service ... I had the most amazing experience with service. Carly ensured it was sent out straight away and it came with plenty of time. The product was great quality and very comfy. Very impressed.

Jamie C, Mount Low QLD
Love it ♥️
Bought this as a baby shower gift but it's too cute I'm going to have to buy one for my daughter too! Good quality, cute packaging and excellent customer service. Highly recommend!

Genevieve M, Inglewood WA
This adorable little koala costume came just in time for my little one's first Halloween. I'm so excited! Carly provided me with excellent customer service and assurance during the whole order and delivery process. Thank you for the help and being a part of my little one's first Halloween, Carly!

Linda H, New York, USA
Beautiful, smooth and natural. Baby Maddox took it straight out of my hands and put it straight into his mouth.

He knew exactly what the little wooden koala was for.

Laura H, West Mackay QLD
Beautiful outfit , great quality and Carly has been amazing through whole process :) highly recommend, very personalised service :)
Thanks Carly! 😁

Penny A, Hastings, UK
LIL' CREATURES
A Local Small Business
Hello! I'm a mum to these two gorgeous boys, designer & owner of Lil' Creatures. 
Lil' Creatures is proudly Australian-owned and operated and we are committed to using local materials and local workers where we can.
We want as many Australian parents to shop from our range as possible, we also want to play our role in generating more awareness and support of all local businesses and why we should be doing our bit to purchase from them for the betterment of our great country.
While we haven't been able to produce everything in Australia, we have lots of Australian-made baby products and keep as much of the process local for our unique baby gift shop. We support other small businesses too by carefully selecting the beautiful products we stock from like-minded Australian-owned and operated brands.
From my family to yours.
x Lil' Carly.
Find your perfect Australian baby gift, for sale here at our online baby store, there is simply no better way to show your love and support to a loved one who is expecting a precious newborn bundle.
Personalised baby gifts Australia
Make your baby gift truly unique and special by including Lil' Creatures' collection of personalised wooden baby rattles and teethers that are handmade in Australia to our unique baby toy designs and reflect our love for quality Australian baby gifts. Exclusively available through this online store, our wooden toys are made from organic timber and allow for the opportunity to have your baby's name custom engraved on the back.
Ideal as baby keepsakes, all of our personalised wooden toys are designed to be the perfect gift for newborns across Australia. Let those little ones cherish these gorgeous creations that our customers have come to love.
FOLLOW @Iilcreatures on INSTAGRAM